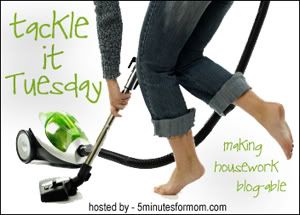 This is my first Tackle it Tuesday! What better way to jump in than with the dreaded, catch-all dining room table. This mess has been a mental block for me for a while. I have been using it as my coupon (yes, I am a couponer!), cookbook software entry, and greeting card writing station for far too long. I finally got my own space in what I now call 'the studio' (formerly the nursery, sunroom, place-to-put-all-the-stuff-to-be-dealt-with-later area). It has just taken me a while to shift my projects up there.
I am at the point in my tea party planning that I want to start thinking about the table setting. It has been lacking luster the past few years, and I really want to do it up this year, what with the
floral flourish
theme and all. Party time is getting closer, so I need to get to work on it. But I just couldn't make my mind go there because all I saw was this chaos.
Now, I *could* have just cleared the stuff off of the table, polished it up, and voila! But I decided to tackle it a bit more thoroughly and organize this stuff while I was at it. I moved my mobile coupon station and all of the cookbooks and magazines up to my studio to be input at leisure (I would be holed up a year if I tried to glean the good recipes from all of those sources in one sitting!), put my ipod and various accessories where they belong, finished the Christmas cards (yes, I said Christmas cards - long story - company didn't actually deliver these until January, so I went back and forth on whether or not to send them late or just forego, finally decided to send them with the dubious distinction of being the last Christmas card folks got, why not?), put the kids' toys in their room, and put the box-o-diskettes by the back door so I remember to take them to donate to the school. There!

A swift dusting of the table made it shine, and I appreciated that I once again had a dining room table, where I could envision my friends gathered together for fun and companionship. Now I certainly have no reason to not plan a fabulous table setting for the Valentine's Day tea party! Oh, except maybe that I'm just not really really good at that kind of thing. I have my work cut out for me on this one!
Check out more of today's Tackles
here
.