Shindiglet - Like a grand shindig, only a much smaller to-do. There are times, when even a small group of people getting together creates an occasion for celebrating with a theme. And if it is within my power, I always try to make that happen.
A book club meeting, for me, is such an occasion.
Over the weekend, I had a Book Club meeting. The book was
The Prince of Tides
, by Pat Conroy. This story's setting is largely in Coastal South Carolina. The main character's family were shrimpers. I was in charge of bringing the food. And you know how I love a theme...
Being a morning book club meeting, my challenge was to find an appropriate breakfast or brunch food that would tie in to the book's setting. Shrimp was necessary, I immediately decided. My thoughts then quickly headed back to last summer's vacation to Charleston, SC. After a long, hot day strolling the streets of Charleston, my family settled in to a refreshing seafood dinner at a very colorful restaurant. Looking at the menu, I landed on three magical words: shrimp and grits. I had never had grits before. And the cheese-laden, bacon-y sauce sounded too good to pass up. This particular restaurant, shaped the grits into cakes and fried them to a golden crisp, and ladled the shrimp & sauce over top of that. It was totally mouth-watering. I, however, did not think I could pull this off at 8:00 on a Saturday morning, but grits sounded like the ideal pairing with shrimp and breakfast. So I did a search for shrimp and grits casserole recipes, and found one that sounded worth trying:
Cheesy Shrimp-and-Grits Casserole
.
Photo courtesy of
joyd
at RecipeZaar.
The night before Book Club, I hit the grocery store to get my supplies. I wandered around forEVER looking for grits. Having never bought them before, I really didn't know where they would be located. I first looked by the rice. Nope. Then the ethnic aisle (why not?). Not there either. Okay, grasping for straws, I searched by the flour and corn meal. Notta! I almost gave up on the idea and started thinking of other things to take to eat. I was completely deflated with that line of thinking, however. I really had wanted to work out this theme! With a lightning moment of inspiration, I headed to one last place to look for the grits - the cereal aisle! Lo and behold, there were the variety of grits nestled next to the oatmeal selection. Happy day! So I finished up my shopping list and headed home to get started.
I prepared the recipe that night, and needed only to pop it in the oven for about half an hour just prior to leaving for the meeting the next morning. Fortunately, we were only meeting across the street at my neighbor's house, so it was still nice and hot and ready to be gobbled up when I got there! I did bring along a fruit salad (strawberries, red grapes, and blueberries tossed in a honey-lemon dressing), to round it out, and as an option for anyone who doesn't like or can't eat shrimp. A jug of Southern Brewed Iced Tea fit in nicely with this fare, too! I was proud of the result, which was not too overwhelming, but helped set the mood for the topic of discussion. We all allowed ourselves to be immersed in the way of life described in the book, and we didn't escape without a few goes at a southern drawl in our voices.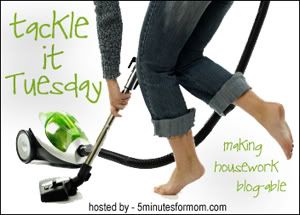 Go to
5 minutes for mom
to read more tackles!