My two little girls have birthdays coming up very soon. I have been getting the party plans together, but still haven't sent out the invitations. Yikes! 
In all fairness, I ended up with less time than I originally thought I would have to plan the party. My girls' birthdays are the 8th and the 10th of April, which falls during Holy Week this year. In my mind, I had the party date set for the weekend after Easter. Family members, it turns out, have plans that weekend, and wouldn't be able to come. So... I chopped off two weeks of the planning cushion and set the date for the weekend before Easter. Talk about scramble time!
A bowling party was requested, as was the theme "Fairly Odd Parents," which is a cartoon on Nickelodeon. I got to work right away, and reserved the date at the bowling alley. Check. I sent out a "save the date" email to the invitees to buy a little more time to get the invitations together. Check. Then I scoured the web looking for ideas to pull the theme together, cutting and pasting the thoughts into a document. Check.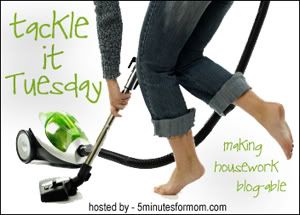 Armed with ideas, I found myself ready for my Tackle it Tuesday: create and send the party invitations.
Mimicking the Fairy Godparents rule book "Da Rules," I fashioned the invitation to be "Da Rules" for having a good time at the birthday party, with the party information details being the rules. A little Fairly Odd Parents clip art was added to help explain the theme. Check.
Okay, so I was well on my way to getting these things on their merry little way to the party invitees. Shucks! I didn't have envelopes to fit those bad boys! After checking prices online at the office supply stores for envelopes fitting the measurements of the invitations (which came 100 per box), I decided to attempt making my own. Wrapping heavier grade paper around an invitation, I created the pattern and made the few that I needed. Check. (Afterwards, I found a lot of internet sites providing
printable templates
and more ideas to create your own envelopes.)
The next task that needed to be completed was sealing the envelopes. A little scrapbooking adhesive tape closed the envelope, but it needed some flair. Hmmmm. I didn't have any Fairly Odd Parents stickers, so instead, I found shiny gold stars to use. I added a straight black line, and voila! A fairy godparent wand! Check.
The last thing to do is get these to the post office. So, I'm off to do that now. Since the envelopes are homemade (nonstandard), I want to make sure I have adequate postage on them. After all that work, I want to be sure the invitations actually make it to their intended destinations!